GAME COMPARISONS
|
BEST PRICES
|
NEWS
|
REVIEWS
|
AND MORE!
---
---
Source: GameInformer
Posted:
posted 10 months ago
---
This is a pretty common entry in any gamers blog, but I'd figured it'd be a good jumping off point as my first entry. Now if you take a look at my bio, you might notice a few of those games don't make that list, well that's due to the fact that my mind is always changing and currently, this is the top 10.
10. Donkey Kong Country Returns
I was late to the party when it comes to the Wii because I have a major beef with motion controls. Even as huge a fan of Nintendo as I am, I held off on purchasing one, that is until Donkey Kong Country Returns came out. I finally broke down and purchased this masterpiece. Everything about this game screams quality. From the inventive level design and a great style (especially showcased on one of my favorite levels in the entire game above), Retro seriously knocked this one out of the park. This 2D platformer rivals any of the greatest of the 16 or 8-bit era and rocks any of the current gen platformers down to hell. It's challenging and just plan fun. Retro didn't just perfect Rare's original platformer, they blew them away. Highly recommended to ANY fan of platformers or Nintendo in general.
9. Dark Souls
I was a big fan of Demon's Souls as it provided something different and unique from the simple 6-10 hour campaigns offered by most games today and was super hyped to hear that the sequel was coming to America. Let me say, this game, this f***ing game, destroyed my life for a short time. I was completely absorbed in the world and how awesome this game was. It wasn't the story, as a matter of fact, I don't even know what the hell the story is at all; no, it was the challenge and the awesome monster battles (my favorite being pictured above, Amaterasu Great Grey Wolf Sif. Despite the lack of narrative, toward the end of this battle, it actually made me feel bad about my fighting him. But then he killed me for the third time and all bets were off. This game comes highly recommended for anyone who has patience and is willing to put up with the challenge (read: Good at Video Games).
8. Fallout 3
I'll come out and say it right now, I hadn't even heard of Fallout before the third entry. Since then, I've gone back and played the first 3 (including the expansion) and loved them, but that's for a different time, for now, let's focus on the amazing game that is Fallout 3. Yeah, I know, Skyrim, and you know what I say? Fallout 3. I got this game for my PS3 when I first bought it, having no idea what it would be. All I knew is that it was a Bethesda game, and I knew that I loved Oblivion and Morrowind, so I would probably like this. Let me tell you, I f***ing loved it. From your birth to the end of your journey, I was completely and totally engrossed in the Capital Wasteland. From the interesting characters to the varied enemy encounters, this game has it all. There is so much to just do in this game in a relatively small game area that it just blows my mind. The atmosphere is great and so is the soundtrack. As with the last two games, this comes highly recommended.
7. Rock Band 2
I know what your thinking, Rock Band 2 over Fallout 3, Dark Souls, AND Donkey Kong Country Returns? If you have any problems with this, make your own blog about how much mine sucks then. For now, I'm going to right about Rock Band 2. I've played this game for countless hours mastering each track. I loved the first Rock Band, but this one had a better tracklist, a more streamlined UI, and was a load of fun to play with friends. I've played this game from 11:30 P.M. to 8:30 A.M. before with friends in the basement, and had a blast each minute. My instrument of choice is drums as it is the most challenging and fun, plus I already can play guitar and bass so I have that fantasy fulfilled. Play it, love it, live it.
6. Grand Theft Auto IV
As the last current-gen entry on this list, this also perfectly summarizes what makes this generation great in my opinion. From the open-ended world, to the limitless possibilities to wreak havoc, GTA IV is a masterpiece of interactive medium. Hell, this game actually has a pretty great story too. I actually cared about the fate of Nico and Roman and wanted to progress in the story, which is a huge feat when it comes to a GTA game, since there's so much side content to engage in. You wanna mow down Grany's from your sub-compact with an SMG? Do it. You wanna skydive out of a chopper above the Statue of Happieness (Liberty)? Do it. Every genre from shooters to RPGs this gen owes something to Rockstars GTA formula, and this was perfected in IV. Let's just say I'm looking forward to V.
5. Oddworld: Abe's Oddysee
I remember picking the box up for the first time and reading the back of the box: Possession is 9/10th's of the Law. I did quite a bit of possessing in the first foray into Oddworld. I've beaten this game at least 15 times and each time, I'm surprised at how much I love it. From the undeniably unique setting/scenario and the funny writing, Oddworld crushes. The puzzles are fun to solve and require quick-thinking, quick-reflexes, and trial and error. I remember seeing a Slig for the first time and being shot within seconds as I attempted to possess him. When I finally did manage to possess the ***, I was excited as all hell. As a whole, the Oddworld series rules, even the games on the Xbox were awesome and I was incredibly disappointed about the cancellation of the Ballad of Fangus Klott. You know what, screw the Mass Effect 3 ending, people should be mad at EA for the cancellation of this game.
4. Super Castlevania IV
While many people site Symphony of the Night (also an amazing game) as the best game in the Castlevania lineage, I say nay, Super Castlevania IV has it all. This journey is truly one to remember as you fight hordes of Dracula's minions and encounter quite difficult platforming and combat sections. This is the pinnacle of 2D Action-Platformers and should not be overlooked. Everything about his game rocks, from the soundtrack and level design, to the ability to shake you whip around in a limp position. Even if you don't own a SNES, you need to play this game, now!
3. Metal Gear Solid 3: Snake Eater
This one was tough. I'm a huge Metal Gear Solid fan and I chose to limit this top ten list to only one game per franchise, as without that rule, it would be made up of only Metal Gear, Zelda, and Mario games, and that wouldn't be all that interesting. This is the most easy to understand and simple narrative in the Metal Gear Solid lineage and this is perfect because it allows the player to focus on one of the most believable and (I feel quite homosexual for saying this) beautiful relationships in gaming. The final fight with the Boss is an intense one, not because of the difficulty or what's going on in the actual battle, but because you feel for Naked Snake as he is forced to take down the one person in his life he's actually cared for, and that is something special. The other boss battles are great as well, particularly the Sorrow, who forces you to walk through the spirit of everyone you killed throughout the game, and let me say, on my first playthrough, that was a lot. Plus, what happens afterward with Ocelot is awesome. If any video game series shows that Video Games can be in fact art, Metal Gear Solid proves it, and Metal Gear Solid 3 is my favorite game in this series (at least right now).
2. The Legend of Zelda: A Link to the Past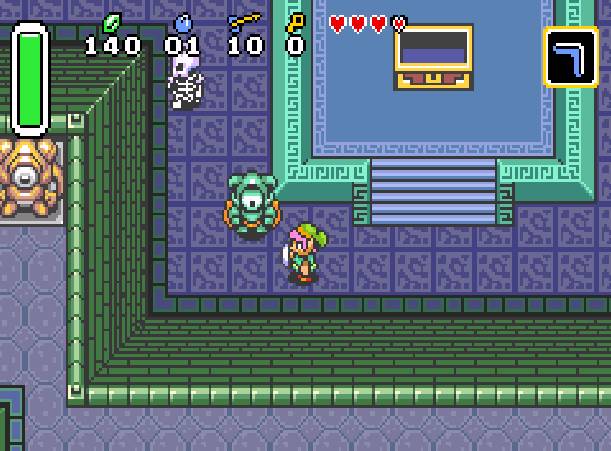 I know a lot of people who didn't have a SNES think that Link to the Past is just put as one of the best games of all time just because you have to, and I'll say it right now, those people are stupid. A Link to the Past is one of the best games every created and I would like to take a moment and thank everyone at Nintendo who made this game possible. Right out of the gate, this game starts with a killer opener as Zelda contacts you in your sleep and wakes you up. It's raining outside (which was a killer effect at the time and blew everyone's minds). You go to the castle only to find your Uncle injured and soldiers roaming the grounds. This is just he beginning of your journey. Your journey through Hyrule is one of the most grand adventures ever undertaken, and millions will agree with me. While the first Legend of Zelda established a lot of the features and aspects of this series, Link to the Past perfected it and made it easily one of the best games of all time.

1. Super Mario World
Here it is, sitting pretty at number one, Super Mario World. People give Nintendo crap all the time about how they have abandoned there hardcore fans, and I must admit that I'm one of them from time to time, but then I remember, they gave us Super Mario World. I remember booting this one up for the first time more vividly than the first time that I had... you can probably guess. Every jump, every sprint, every cheap use of the cape is ingrained into my brain. From the opening level to the final fight with Bowser, this game is awesome. It also brought me some of my favorite Video Game music. The level design is pure genius and the only other game that's even come close to it is Super Mario Bros. 3. All I have to say is that I F***ING LOVE THIS GAME!

There you have it. My favorite games of all time. Nothing too shocking, but all awesome games. If you haven't played some of them, I highly recommend you do.

News Tags
In the last 24 hours